FTC Disclosure:  If you make a purchase via a link on this site, We may receive a small commission on the transaction - at no added cost to you. Thank you!
Best Senior Travel Deals
The best senior travel deals include free vacations for senior citizens and discounts on off-season travel, senior friendly tours, last minute travel, AARP travel, ocean and river cruise lines, airlines, train travel, National and State parks, Disney World, volunteer trips and many more.
These deals are available to those who take advantage of the senior age requirements of many companies who offer them. 
There are numerous age-related discounts available for seniors.
How to Find the Best Senior Travel Deals
Check with the hotels, resorts or other accommodations for their off-season rates which can be a substantial savings.
Contact the owner of a Airbnb or Vrbo accommodation directly and ask for the best available or ask if they would except an offer for a lower rental fee. 


The best time to book a flight is 4 months to 3 weeks before your departure date. Also, you should check different departure days of the week if you can be flexible as a retiree. Most airline companies have discounted senior fares.


Always check for senior citizen discounts or AARP discounts (if you are a member) with cruises, train travel, airlines, bus travel, hotels and motels, restaurants, parks and campgrounds. 

NEW TO THE WEBSITE


Our Newly Discovered
FREE Vacations for Seniors

Here is the Current Deal/Giveaway We Found



Check Back Often To See The Latest!




---
We search "high & low" for deals and giveaways for seniors. This one is a very attractive offer from Travel + Leisure.

Come back often to see the latest deals, contests or sweepstakes and
"Who Knows", it maybe you who wins!
Here is the latest we found; a Sweepstakes from Travel + Leisure.
Their offering a chance to win $10,000 for an "Ultimate Family Vacation".
Hurry!.... the Offer Expires on December 31, 2023!
Enter here.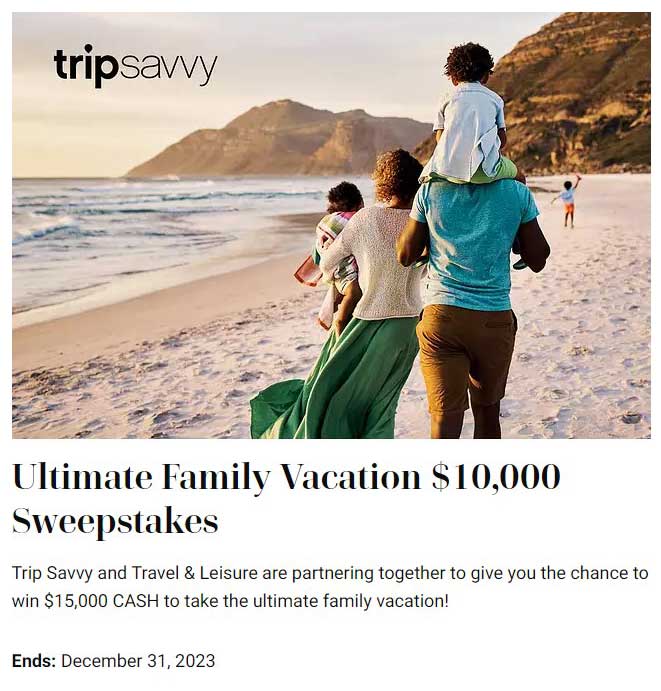 Off Season Travel Deals
Off season travel discounts are among the best senior discounts.
Taking advantage of your time flexibility can give older travelers great savings on rental accommodations.
Many tourist locations have off-season rates. You will have a better chance of avoiding the crowds of the main season and often get better service at hotels and restaurants.
Your trip will include a less crowded visit to a beach, a museum, a golf course and basically your entire itinerary.
If you visit Costa Rica, you will benefit from low season rates during May or November. We found that the sunny skies will be complemented by 10% to 40% lower rates.
Here is an example of a beautiful sunny 82° day on North Beach in Ogunquit, Maine in September.

When the "Summer Crowds" have gone!
Visit Ogunquit, Maine for Seniors here.
Group and Club Travel

Another alternative for some of the best senior discount is to take advantage of the group rates available to members of travel groups for seniors  and travel clubs for seniors. 
Solo travelers, traveling in a group receive socialization as well as discounts. Group travel hosts have senior vacation packages and vacations for seniors on a budget.

The groups can be free but the clubs charge a small fee for membership. 
Receiving the club's discounts can more than make up for the cost of membership.

Home and Abroad Tours
Many companies offer Tours customized for seniors.
Since these companies can generally get the best flight deals as well as a number of other discounts, these tours can be a bargain. There is a huge variety of senior tours.
Walking International Adventures has walking tours suitable for seniors.
Adventures Abroad even has custom a custom walking tour for grandparents and grandchildren.
Europe Tour Group
Last-minute Travel Deals
Some of the best senior travel deals can be obtained by traveling last minute.
Check Expedia, Travelocity, Priceline and Hotwire for super discounted last minute deals.
The best way to find a deeply discounted rate on major cruise lines is to book last minute unsold cabins.
Note that you will usually need to travel within 2 weeks. As seniors with flexibility for scheduling, this can really save us some money.

Airline Discounts
Many airlines offer discounts to seniors on some select flights. 
British Airways doesn't offer a direct senior citizen discount but AARP members can save when booking through AARP.
Low cost airlines such as JetBlue, Spirit, Frontier and Virgin airlines do not age related discounts but offer various discounted specials on their websites.
It is worth checking airlines around the world for senior discounts if your travel includes those destinations.

Please understand that these airline deals are not always available on-line. They do not always apply to every flight destination. Always call the airline directly if interested in receiving this type of discount.
Booking flights on Monday through Wednesday will save on airfare.
6 Airline Travel Tips to Save Money
Book Winter flights in the Summer. (Just as Winter coats go on sale in the Summer, so do Airline flights.
Book One-way flights rather than Roud-trip flights. (You can save $100 - $200)
Use your Points or Miles. (Make sure you're getting the best; you should get at least 2 cents per point)
Check fares for nearby airports from your destination.
Travel on the actual holiday themselves (Could be 30% - 40$ cheaper)
Travel Internationally on Thanksgiving (It's  the best week of the year for overseas travel; everyone usually travels locally for the holiday)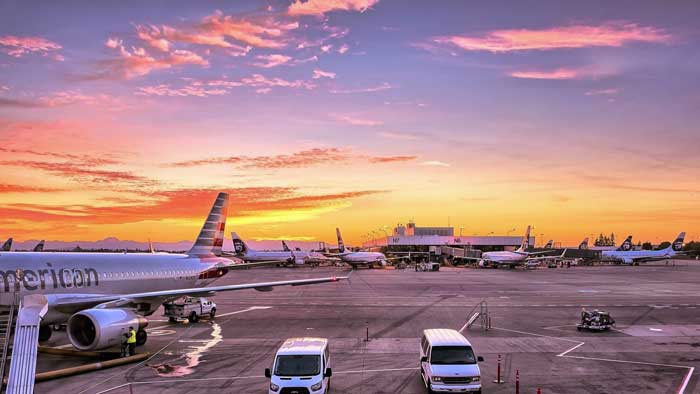 American Airline Plane
Cruise Line Discounts for Seniors
Celebrity Cruise Line-over age 55 on select itineraries
Carnival Cruises - over age 55 on select itineraries

AARP on select cruises-members over 50 years of age 

Cruise Direct is an online search engine for cruises that allows customers to compare prices and see the trip options.
Disney Cruises has special offers on specific sailings listed on their website.
Please note that some cruise lines offer a free upgrade on select cruises for senior travelers.
Holland America does not offer senior discounts but it is worth checking the website for special deals

Ocean Cruise Ship
River Cruise Promotions
Many have special promotions on their websites but do not have specific discounts for senior citizens.
American Cruise Lines has special promotions listed on their website.
Viking River Cruises has special promotions on their website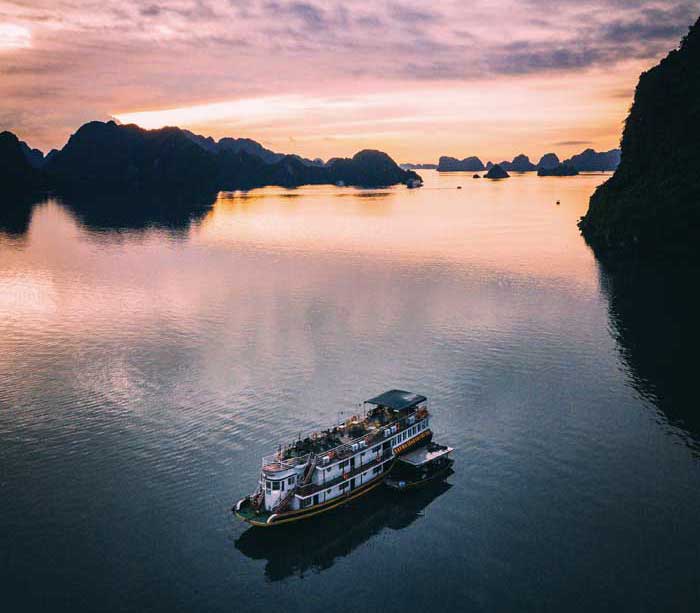 River Cruise Ship
Train Travel Discounts
Amtrak offers a 10% discount on rail fares to travelers over age 65 in the United States.
For those traveling across the border to or from Canada, Amtrak offers a 10% discount to those over age 60.
Using rail travel to get to your destination of choice is a relaxing way to travel and something to consider are Amtrak's vacation packages including weekend trips.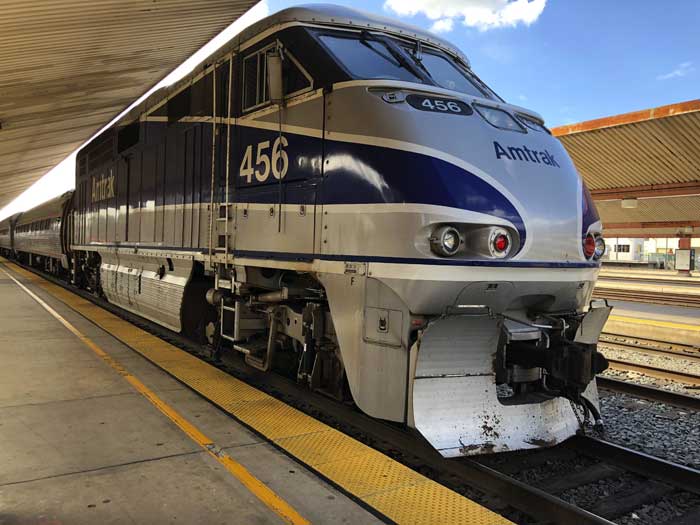 Amtrak Train
Bus Travel Discounts
Trailways  offers a 10% discount to seniors age 65 and over. There is also a half-fare promotion on select routes for seniors and those with a disabilities. 

Bus Terminal
House exchanges
Why not list your house with a house exchange?
A house or home exchange is a mutual exchange of homes for a set period of time between two home owners.
Both parties can enjoy totally free vacation accommodations rather than staying in expensive hotels.
Choose a reputable company for the safety of your property. You shouldn't have any problems because they have regulations. The benefit of free rent is huge.
Winter House Exchange Home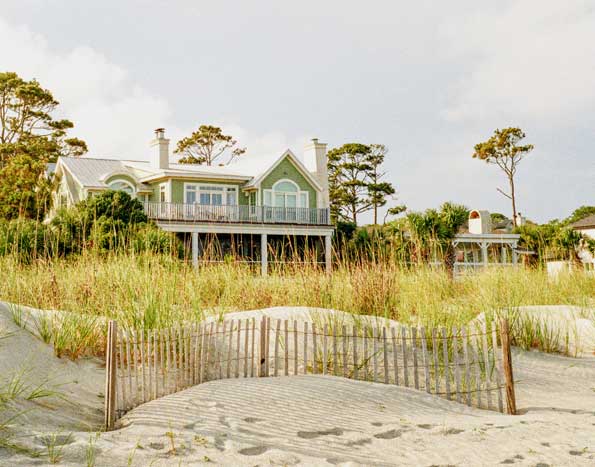 Beach House Exchange Home
Stay at a Hostel
You can save a lot of money by staying at a Hostel.
An older friend recently returned from Italy. She stayed at a Hostel located in a beautiful location and it was quiet in regard to the guests.
However, young people who enjoy a party often frequent Hostels. So, if you like quiet, be aware when inquiring about a Hostel.
Website: https://www.kayak.com/hostels
National Parks and Campgrounds
One of the best deals is the Lifetime Senior Pass for United States citizens.
It will provide you with free entry into all National Parks in North America for the rest of your life.
If you are on a fixed budget you can obtain a Yearly Senior Pass for entry into all of the National Parks for $20 for one year.
Besides giving entrance to the National Parks, your camping fee is reduced by 50%.
AARP members receive a 10% discount at some campgrounds.

Badlands National Park
Sequoia National Park
Disneyland & Disney World
Disneyland and Disney World do not have discount tickets for seniors. However, you can buy them from a ticket broker because these brokers often have the lowest prices on legitimate Disneyland & Disney World tickets.
Some senior citizen organizations can occasionally offer special discounts.
Disney Tickets
AARP Discounts
The AARP membership gives a variety of discounts on just about everything travel related.  Membership provides savings on rentals, air fair, cruises, tours, and vacation packages You need to join for an annual membership.
For convenience, AARP provides senior members with an AARP card to present to hotels, airlines, cruises, car rentals, bus lines, campgrounds and many more to receive discounts.
Volunteer Trips
Many older adults have time on our hands and wish to put those hands to good use. If so, think about a volunteer trip that might offer free housing and food in exchange for your help.
Volunteer opportunities make for some of the best senior travel deals. They may take you to far away locations. You might put the skills of your lifetime to use by tutoring, working on computers, environmental work and much more.
You can find volunteer opportunities that involve travel with a Volunteer Opportunity Service.
Global Vision International has volunteer opportunities for seniors over 50. This is an Award Winning Company that focuses on conservation and community development programs.
Working Vacations
Jobs abound for older adults in just about every state and country.
There are plenty of positions on cruise ships for older adults to work part-time and enjoy the cruise on their spare time.
If you are no longer bound by a career, family or other responsibilities, you can work in the chosen location for your travels.
This is a chance to use the skills and knowledge you have already achieved or explore new jobs to expand your knowledge and skills.
Often, this lets you work near other seniors or people of a variety of ages. 

Hotel Deals/Discounts
Large chain hotels give a range of 10% to 15% price reduction at select dates for seniors. The age requirement ranges from 50 to 65.
Hotel/Motel

Holiday Inn 
Starbridge 

Six Senses 
Crown Plaza 
Intercontinental 
Regent 
Kimpton 
Candlewood  
Even Hotel 
Marriott Hotels
Motel 6 
Windham Hotels 
Red Roof Inn 
Days Inn 
Travel Lodge
La Quinta 
Rodeway Inn 
Best Western 
Ascend Hotel 
Comfort Inn 
Clarion Hotel 
Econo Lodge 
Cambria 
Sleep inn 
Main Stay Suites 
Quality Inns 
Wood Spring Suites 

Age Requirement 

62 
62 

62 
62 
62 
62 
62 
62 
62 
62 
60 
60 
60 
60 
60 
60 
60 
55 
60 
60 
50 
60 
60 
60 
60 
60 
60 
Hotel Rewards Programs
A great way to save on hotels, motels and suites is to join the Choice Privileges Reward Program.
We joined a few years ago and have saved quite a bit on our many stays.
The Choice Hotels chain has various well-known brands to choose from when booking a stay. Their hotels vary from economy grade to luxury. They are found in thousands of locations throughout the world.
So you won't be hard pressed to find one no matter where you're headed on your next venture!
The program awards you points for each Choice hotel or suite booked.
After you've earned enough points, they can be redeemed when booking a hotel or suite as a discount on the cost.
Sign-up here.
Choice Hotels Brands
Upscale 
| | |
| --- | --- |
| | Ascend is a unique reflection of a local community, with staff committed to sharing their insider knowledge of the places, moments and experiences that makes each destination special. |
| | Cambria Suites has spacious meeting spaces, and locally inspired designed guest rooms with spa-like bathrooms and premium bedding. |
Midscale
| | |
| --- | --- |
| | Comfort Inns - has a modern and up to date look with premium amenities, they've been refreshed so you can feel refreshed and ready to take on your day. |
| | Sleep Inn - is a simple stylish sanctuary that's designed for a happy night's rest. You'll find fresh design elements around every corner, each inspired by nature to refresh and relax. |
| | Clarion Pointe - offers affordable accommodations with everything you need to unwind or get things done. Comfortable, contemporary rooms, free WiFi and a free better-for-you breakfast. |
| | Clarion - has convenient and affordable accommodations for special events, vacations, or a weekend getaways. Clarion offers a room for any event, along with catering, restaurants, and bars, in an atmosphere that can help you make the most of your time together with friends and family. |
| | Quality Inns - are affordable stays and all the amenities you need to relax and focus on what really matters. |
Economy
| | |
| --- | --- |
| | An Econo Lodge - is an easy stop on the road where you can find a great place to stay at a great rate. We've stayed many times at an EconoLodge and always found a clean and comfortable room with enough amenities such as coffee maker, microwave, refrigerator and plenty of towels. |
| | Rodeway Inns - Forget about fancy when all you need is a solid deal on a simple stay. When you're traveling on a budget, Rodeway Inn hotels offer the travel basics with the reliability and security of a national brand you can trust.  |
Extended Stay
| | |
| --- | --- |
| | MainStay Suites - has spacious suites ideal for longer stays lasting a few days, weeks, months or longer. Enjoy apartment-style amenities like fully equipped kitchens, laundry facilities and weekly housekeeping service.  |
| | Suburban Studios - have comfortable, affordable studio suites that offer the amenities you need to thrive while you're away from home and the longer you stay, the more you'll save. |
| | Wood Spring Suites - has nightly rates, weekly rates, and monthly rates available that cover necessities with add-ons available. A collection of extended stay hotels where guests will find comfortable accommodations, and affordable rates for smartly-designed suites with in-room kitchens.  |
| | Everhome Suites - provide familiar conveniences like fully equipped kitchens, 24-hour on-site laundry facilities, modern fitness centers with Peloton bikes, and access to snacks and sundries at our 24-hour Homebase Market.  |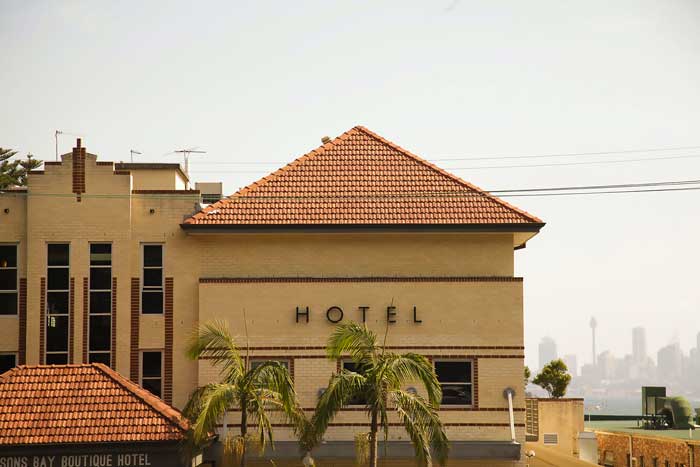 Hotel Building
Restaurants
Large chain restaurants offer a variety of discounts ranging from 5% to 25%.
Again the age requirement varies. Sometimes they give a drink or a coffee.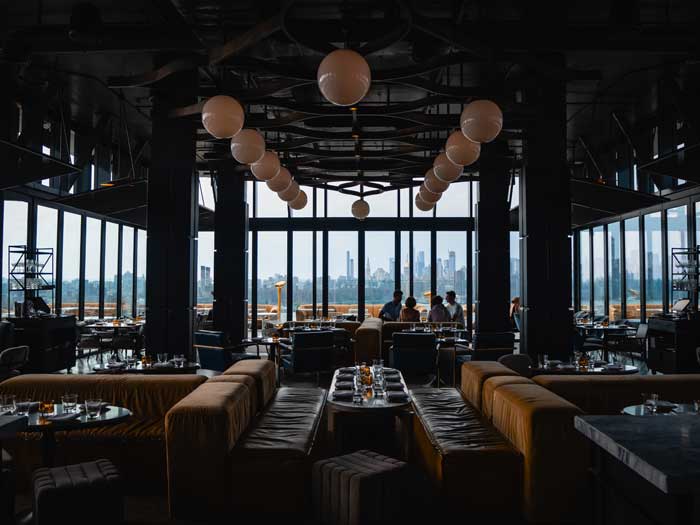 Brooklyn, NY Restaurant