FTC Disclosure:  If you make a purchase via a link on this site, We may receive a small commission on the transaction - at no added cost to you. Thank you!
Whale Watching Ogunquit Maine
Whale watching Ogunquit Maine is available at First Chance Whale Watching, New England Eco Adventures and Odyssey Whale Watch.
First Chance Whale watch is located in Kennebunkport, Maine; just a 22 minute drive from Ogunquit.
New England Eco Adventures is located in Kennebunkport, Maine; just 23 minutes drive from Ogunquit.
Odyssey Whale Watch is located in Portland, Maine; 
Whale watching is one of the most exciting adventures in Maine.
A whale watching attraction will make many cherished memories for you and your family!
This an absolute must thing to do while visiting Ogunquit.
Whale watching is a great time to share with others and family especially with grandchildren.
About Maine Whales 
There are many different species of whales that migrate to the ocean waters off the coast of Maine.
They come to feed, breed and raise their young.
The coastal waters is home to plenty of fish which is the main attraction that brings the whales to the area to feed. 
The abundance of food brings some whales returning year after year to the same areas.
The 4 Most Common Whale Species in Maine
1. The Finback Whale:
The Largest Species.
Size: Up to 80 feet in length
Features: Grayish, sleek whale with tall, curved dorsal fin. Head lighter on right side. Rarely lifts tail.

Range: Same areas as the humpback whale, but not always at the same time.
Food: Mostly small schooling fish like sand lance, herring, young mackerel, and krill.
2. Humpback Whale
Size: Up to 55 feet in length

Features: Mostly black with long white flippers, bumps on head and distinctive, variably sized dorsal fin. Usually lifts the tail when diving. Distinctive black and white pattern underneath.
Range: During spring, summer and fall these whales are found most often around the sloping sides of the banks and ledges of the Gulf of Maine, Georges Bank and the continental shelf south of the Islands.
Food: Mostly small schooling fish like sand lance, herring, young mackerel, and krill.
3. Minke Whale
Size: Up to 30 feet in length

Features: Sickle-shaped dorsal fin, white bands on flippers, with no visible breath (spout). Rarely lifts tail.
Range: Same as Humpback and Finback whales, but also found in closer to shore.
Food: Same as Humpback and Finback whales. Sometimes eats single discarded fish.
4. Pilot Whale
Size: Up to 21 feet in length
Features: Very long crescent-shaped flippers, mostly dark grey, brown, or black, but have some light areas such as a grey saddle patch behind the dorsal fin.
Range: Long-finned pilot whales live throughout the cold and temperate waters of the southern hemisphere and in the North Atlantic Ocean.
Food: Primarily squid, but will also hunt large demersal fish such as cod and turbot.
Notable:

North Atlantic Right Whales

Very Rare - With about 300 remaining, both Massachusetts and federal regulations establish a 500 yard buffer zone around this species.

That zone can only be entered with special authorization through the Network or USCG to assist the Disentanglement Network.

Size: Up to 60 feet long)


Features: Stocky, mostly black whale with no dorsal fin and rough white patches on head. Usually lifts black, triangular tail high when diving.

Range: Winter/Spring in Cape Cod Bay & Great South Channel.. Summer/Fall in Bay of Fundy (The Bay of Fundy lies between Canada's Nova Scotia and New Brunswick provinces, and touches the U.S. state of Maine.) & Roseway Basin.

Food: Small animal plankton, mostly copepods. 

Information Courtesy of Maine Dept. of Marine Resources.



---
 Whale Watching Ogunquit Maine
and Scenic Cruises
When is The Best Time for Maine-Whale Watching Trips
The best time of year to go whale watching for whale sightings is Mid to Late May, during the warmer months when the whales arrive off the coast of southern Maine until October when they seek warmer ocean water temperatures.
3 Best Whale Watching Tours Near Ogunquit Maine
Off the Maine Coast
1. First Chance Whale Watch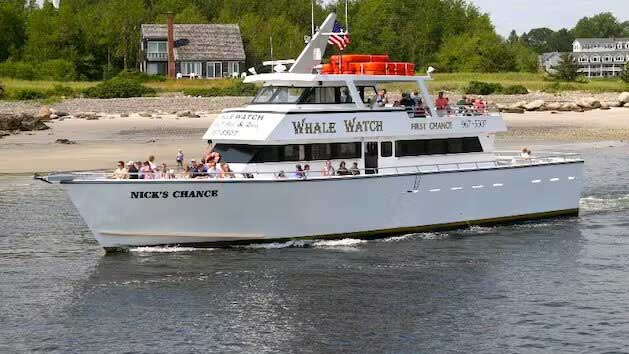 First Chance Whale Watching Tours - was proud to introduce their newest whale watch vessels in 2006; The Nick's Chance!
They are located 
The ship is 87 feet from bow to stern and is equipped with the most modern safety and navigational equipment.
The trip cruises from Kennebunkport to the summer feeding grounds of the Finbacks, Humpbacks, Minkes, the rare Blue Whale and the endangered Right Whale.
The boat has ample space at the rails on both decks for excellent viewing and "photo ops".
First Chance started operating at full capacity post pandemic in 2022 with no masks required provided you are fully vaccinated. (per new lifted guidelines per the CDC and Maine CDC).
They will have a limited galley on board; soda, water, chips, candy bars and limited food.
You are allowed to bring your own but they ask NO ALCOHOLIC BEVERAGES, HARD SIDED coolers, or GLASS containers.

For all food/drink brought on board please DO NOT bring HARD SIDED coolers or GLASS containers as they are hazardous onboard the boat.
They also urge to please wear closed toed shoes.
They do not guarantee whales, as they are wild. However, you do get a pass to come back and try again (does not expire unless you lose the pass, non-transferable!) 
With three fantastic boats, "Nick's Chance", "Kylie's Chance" and "Blue Angel," they offer the most authentic and exciting experiences of the Atlantic Ocean, its wildlife, and the culture surrounding it in the Kennebunk and Kennebunkport areas of beautiful Maine.
The "Blue Angel" offers private charters for more intimate boating.
These tours offer a chance to get out on the water for hours in hopes of fulfilling a lifelong dream to see whales in their natural habitat among giant swordfish, playful dolphins and more Maine marine life.
Or, you may just want a short and sweet scenic tour that will educate you about the marine culture of Maine while also showing you the sights of the water and coast.
For More Information Visit Their Website
Rates:
Duration:
Directions to First Chance Whale Watch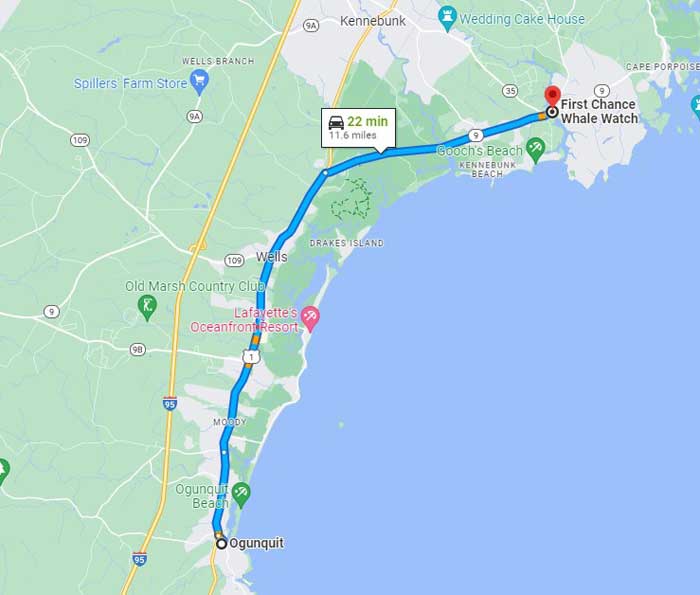 From Ogunquit, Maine - Just a short 22 minute drive.
From Shore Road
To Main Street (US Rt 1/Post Rd.). heading north - 1.5 mi
Continue onto US-1 N/Post Rd - 5.6 mi

Turn right onto State Rte 9 E - 4.3 mi
Turn right (Just pass the Citgo Station) - 56 ft
Arrive at First Chance Whale Watch Departure Point (4 Western Ave, Kennebunk, ME 04043)
---
Tip: Use the map to find directions from your location by clicking
---
2. New England Eco Adventures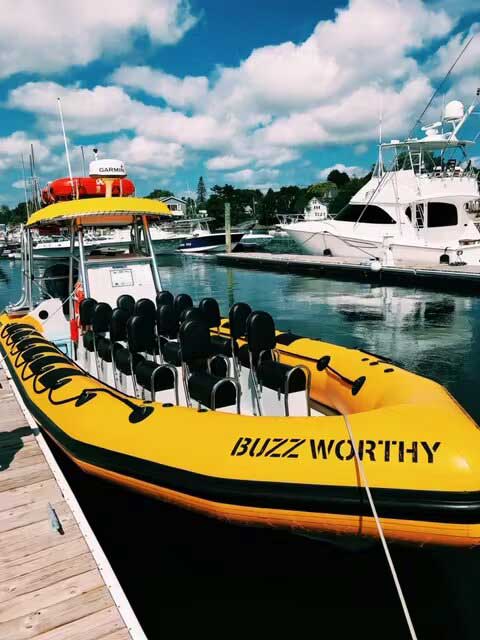 New England Eco Adventures Boat (RIB)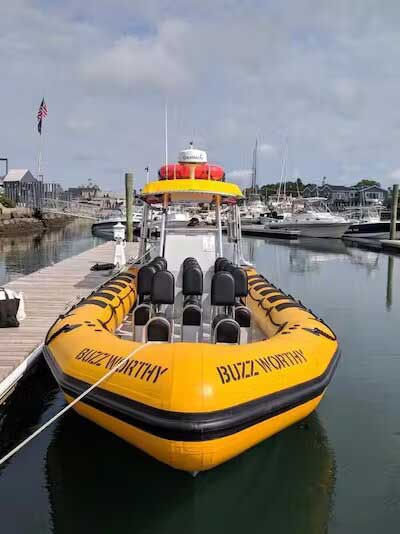 About New England Eco Adventures was started to counter the commercial tour industry with smaller group tours with a unique and intimate adventure experience.
They offer an experience to talk to the captain as an active part of the tour.
They pride themselves with first-class excursions and first-class customer service.
The boats are designed to give a premium experience by limiting the number of guests to 14-20 and supplying the local knowledge.
They promote sustainable eco-tours by reducing their carbon footprint with RIB boats equipped with 4-Stroke Yamaha engines which are said to be the most fuel efficient and eco-friendly motors ever built.
Using a smaller boat doesn't disturb the animals or their environment nearly as much as larger boats.
They also offer private charters
Their vessel, Buzzworthy, was built in 2018 by RIBCRAFT Inc. in Marble Head, Mass.
It was built to all United States Coast Guard (USCG) Certifications with safety and comfort in mind.
Buzzworthy was patterned after the same versatile and nearly indestructible RIBs used by Navy Seals, the USCG, the Secret Service, and multiple rescue agencies around the world use.
Powered by twin four-stroke, 300-hp Yahama engines, they can operate safely in almost any sea condition while being eco-friendly.
14 custom pod seats provide comfort while reducing the slamming that takes place when a boat is underway.
There is storage under each seat that allows passengers to stow small personal items.  
They have also added a full head that offers a marine toilet.
Vessel Highlights:
RIB boats are Eco-Friendly and reduce the Environmental impact on the Whales and the environment
Lower center of gravity means less seasickness
10 inch thick foam-core water-repellent POD seating assures a comfortable and enjoyable ride
Every seat is a front row seat with 360-degree views
Water-proof canvas sunspot provides protection from the sun, and also supports an 18 passenger life float and other U.S.C.G. approved flotation devices
United States Coast Guard inspected. Safety is our top priority
Full Head (toilet)
Mounted GoPros that capture the Entire Trip
Inflatable Life Raft
Life Jackets for all Passengers
Radar
Radio with Speaker and Bluetooth
The Ultimate Whale Watch Info
3 Adventure Tours in One – Boon Island, Seals and of course the main attraction, Whales, Whales, Whales!
What To Expect:
This is their most adventurous tour and has something to offer for everyone!
From the sightseer, the thrill-seeker to the marine lover, their Ultimate Whale Watching tour in the Gulf of Maine is the way to go!
While whales are the main attraction you will also see Boon Island Lighthouse and the 100's of seals that call it home.
On this 4-Hour adventure, their boat puts you up close and personal with the beautiful creatures of the ocean without the hassle of the crowds!
With just a maximum of 20 people per boat, every seat has 360 degree views.
Last year they had a 97% sighting rate – If for some unusual reason we don't see any whales you'll be offered a non-sighting pass which you can use forever until you see a whale!
-(We think this a great feature with Eco Adventures; it is basically a guarantee that you will get to see whales!)
In the Gulf of Maine we are lucky enough to encounter many different species of cetaceans.
During their migration they commonly see the following mammals;

Humpback Whales 
Fin Whales 
Minke Whales 
Northern Right Whale 
Atlantic White-Sided Dolphin 
The Harbor Porpoise
They are also lucky enough to occasionally see the following:
Sei Whales 
Blue Whales 
Sperm Whales and 
The Long Finned Pilot Whale

These whales pass right by us offshore!
This is your chance to have some amazing face time with these majestic animals that will on occasion come right up to their boat.

If you love whales or just the incredible beauty that Maine has to offer then this is the tour for you.
A first-class adventure tour without any crowds
A narrated ocean adventure
Amazing wildlife and scenery
Amazing photo opportunities
Custom POD seats for maximum comfort
360 Degree views for everyone
Educational face to face interactions
Prices:

Adults - $119
Children (Minimum Height Required of 48 inches) - $119

NOTE: These prices are more expensive than the other Whale Watch Tours but in our opinion definitely worth the extra expense.
For More Information Visit Their Website
What's Included
Complimentary water
Cooler with ice
The best Captain and Crew in the business.
What You Need to Bring:

Your camera (make sure it's charged)
Warm clothing (dressing in layers is always smart)
Sturdy Footwear (flip flops are fine)
Hat
Sunglasses
Sunscreen
What Not to Bring:
Large bags

Coolers
High heels
We also recommend NOT wearing a dress
Tip: Use the map to find directions from your location by clicking
Scenic Cruise Offered by Eco Adventures
QUICK DETAILS
Adventure type: Scenic cruise
Duration: 1.5 hours
Location: Portland, Maine
Best Of Casco Bay – one of Maine's most picturesque boating destinations.
Departs from bustling Portland Harbor and tours one of Maine's most picturesque boating destinations.
Casco Bay is littered with islands, historic forts, wildlife, birds, and lighthouses and their unique 14-passenger RIB boat is suited to tour the region while everyone gets a front-row seat so you can see and experience more of it.
Learn about Portland's nautical history, view wildlife like seals, harbor porpoises, and sea birds, and stop for photos at quintessential sights like all four historic lighthouses, Fort Gorges, seals, and the working waterfront while also escaping to lesser-known areas of the bay where wildlife viewing is the best.
This is a unique tour that is unmatched in the breadth of its experience with a local captain to guide you and answer your questions about the region.
What To Expect:

A first-class adventure tour without any crowds
A narrated Casco Bay Adventure
Amazing wildlife and scenery
Amazing photo opportunities
Custom POD seats for maximum comfort
360 Degree views for everyone
Educational face-to-face interactions
Prices:
Adults - $75
Children (Minimum Height Required of 48 inches) - $75
They offer gift cards; a great way to celebrate a someone's special occasion!
For More Information Visit Their Website
Tip: Use the map to find directions from your location by clicking
---
3. Odyssey Whale Watch
Odyssey Whale Watch offers daily whale watching trips departing from Portland, ME.
Each whale watch includes a narrated tour of Casco Bay's lighthouses, forts and islands.
What you may see:

Finbacks 
Humpbacks 
Minkes 
North Atlantic White-Sided Dolphins
Basking Sharks
Ocean Sunfish
Sea Turtles
Countless Seabirds 
They recommend bringing an extra layer of clothing.
Even if it's warm and sunny at the dock the temperature can sometimes drop 10 or 15 degrees when we get offshore. 
Please, no high heeled shoes!
They also offer daily trips aboard their smaller vessel, The Explorer,
Trips include:
"Visit for Gorges": They'll take you to explore the history and structure of Portland's 19th c. Civil War fort. Isolated on Hog Island Ledge, Fort Gorges is only accessible by private boat!
"Seal Watch": Head out to the seal rookery at Halfway Rock. See seals, sea birds, and Portland's working waterfront.
2023 Whale Watch Pricing
Whale Watches are approximately 3.5-4 hours!
Main Deck over 4 years old – $65.00
Main Deck Small Child (4 and under) – $25.00

Limited Upper Deck (all ages) – $85.00

For More Information Visit Their Website
Tip: Use the map to find directions from your location by clicking
Other Highlights To See in Ogunquit Maine
The Ogunquit Playhouse
Ogunquit Museum of American Art
Ogunquit Beach
Art Galleries in Perkins Cove and it's delightful mix of shops
A Trolley Ride around Ogunquit
The Marginal Way Walking Path
Perkins Cove at the end of Marginal Way
The Heart of Ogunquit and the village center offers many specialty shops, restaurants & bars.
Learn more about all of the highlights and attractions in Ogunquit, Maine